It's been a long wait to find out what's up with Adrian Maddox, the would-be saint   from Sector One. Leaving behind the life he was groomed for, he's found his place within the O'Kanes, and now it's his turn for a happily ever after.
I feel like you could slap that Facebook status "It's Complicated" on Mad's relationships with his partners, and it still wouldn't be an apt description. From the beginning, there've been hints and nuances as his interactions with Dylan Jordan (Doc) are concerned. His first meeting with Jade (in Beyond Control) intrigued me. But it wasn't until Scarlet was thrown into the mix that I really started to wonder how everything would shake out.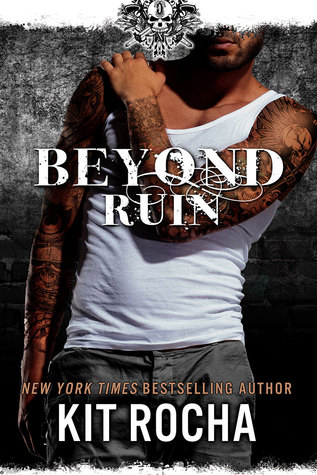 Spoiler: it turns out stupendously.
The way the four of them come together and give the others the pieces they need to feel complete and happy is kind of amazing. Of the four, Scarlet surprised me the most, and quickly became my favorite. Her strength and her toughness give way to a sweet and vulnerable side, and while her relationships with Jade and Dylan are hot and tender, her connection with Mad has something…more. Something that sets them apart from the other two yet doesn't distance them. All four are fiercely protective and have a need to help, a need for control, but Scarlet and Mad share this big-hearted openness that makes them both throw themselves into their relationships with everything they have.
Plus, she sings, and she doesn't forget      where she came from, or who had her back. Her loyalty to Riff and the rest of her band, and to Six, basically just cemented her as my second-favorite heroine in this series (first is still Six. Six is my girl).
All those rumblings we've seen and heard through the series lead up to the action in Beyond Ruin, and here, the writing team of Kit Rocha have outdone themselves. It's a massive change, one that shouldn't be a surprise yet still is. By the end of the book, it's clear there's no going back for Dallas and the rest of the O'Kanes, and I'm already tapping my foot impatiently for Beyond Ecstasy. There's a couple of hints at what might be in store for the couple featured in that book, but more, we'll get to see the beginning of the fallout from Beyond Ruin.
Linking four people together could have been a mess, but Kit Rocha does it with style and complexity, giving us everything we've come to love about the O'Kanes and their love hard, love big attitudes. The revolution is coming, and they're right on the front lines.
Copy provided by the authors in exchange for review.