It's that time of year again! The annual Byrne After Reading Top Ten! Only as I was compiling this list…I wasn't sure if I had a top ten. Sadly, I was right. There weren't ten books that just blew me away this year. Or rather, there weren't ten books released in 2015. There were a couple that were previously released (Redeployment; Columbine) that aren't eligible for this list. So without further ado, I present my top seven!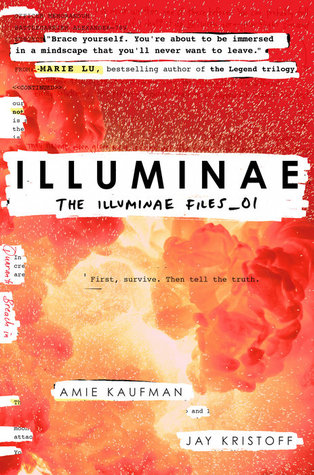 1) Illuminae Amie Kaufman and Jay Kristoff – If you haven't picked up your copy yet, we can't be friends. I said in my review this was easily the best book I read all year, and that still holds true. Kady and Ezra's fast-paced, heartbreaking escape from a militant megacorp will have you on the edge of your seat, and you won't be able to turn the pages fast enough. Normally, I wouldn't recommend a particular edition, but you need the physical book. Reports on the ebook version are it just doesn't translate. And who wouldn't want this pretty sitting on their shelves? (Vampire Book Club review)
2) Twelve Kings in Sharakhai Bradley P. Beaulieu – If any book on this list could give Illuminae a run for it's money, it'd be Twelve Kings. Determined to rid the city of the tyrannical Kings, Çeda's journey toward revenge is an intricate, gorgeous story, full of heat and magic and sword fights. Best thing: it holds up even on a re-read (which I'm currently doing). (My Bookish Ways review)
3) Vision in Silver Anne Bishop – The cassandra sangue were released at the end of Murder of Crows, and the repercussions are just now being felt. Meg, Simon, and the rest of the Courtyard Others are back, and the rest of the world is about to find out just what happens when you provoke the Others. Each book in this series has been stellar, and I had a lot of fun doing my joint review with VBC's Amy. (VBC review)
4) Violent Ends Delilah S. Dawson, Steve Brezenoff, et al – Violent Ends is proof there's always multiple sides to every story. Kirby Matheson may have marched into his high school and murdered several classmates, but that's not all there was to it. Not by a long shot. (Byrne After Reading review)
5) Cut Both Ways Carrie Mesrobian – Another book from my September reading post, Mesrobian's newest offering asks the question about why we need to label our sexuality. Will certainly doesn't. He's not sure what he is, but he doesn't let it bother him. It's a story told with sensitivity and humor, and I loved every minute of it. (BAR review)
6) Zer0es Chuck Wendig – The theories thrown out in Zer0es are so close to plausible, it's scary. Five hackers are conscripted into service for the US government, and what they uncover puts targets on all their backs. Reading this book is like watching an action movie, and it's a damn good time. (BAR review)
7) Asking For It Lilah Pace – I went into Asking For It wary and came out happy. Vivienne's fantasies hit high on the socially unacceptable scale, but she and Jonah approach it with care and common sense. This book could have gone so many bad places, and it doesn't. (BAR review)
Crossing my fingers next year produces more amazing books. I'm already looking forward to Marked in Flesh (The Others book 4) and Gemina (Illuminae Files book 2). And I'm hoping for a new Tana French! What made your top ten this year?