October somehow ended up being full of review books. Normally this would annoy me, because it meant I was reading books I had to read rather than books I wanted to read, but this months' books ended up being the exceptions to the rule.
Tiffany Reisz's The Queen releases tomorrow. The last Original Sinners book, it's the story of how Eleanore becomes Mistress Nora. After her year in the convent, Elle returns to New York broke and homeless. She won't go back to Soren. She wants her freedom and everything that comes with it: her own house, her own money, her own power to make decisions. She's furious with Soren for refusing to recognize that she's a switch, but she can't deny the connection they have is as strong as ever.
For the most part, The Queen ticks all the boxes as a series finale. We see another side of Soren, and it was a side I was happy to see. No one has the power to devastate as much as someone you love, and the way Nora and Soren hurt each other, over and over again, is painful to see…but it's also hopeful. Because as long as they keep returning to each other, you can hope that someday they'll be able to work past their differences. We also see how Nora met Wes, and I may be one of the only people who wishes we could have gotten one more scene with him. Their relationship was one of my favorite parts of The Siren (however vanilla it might have been).
Illuminae by Amie Kaufman and Jay Kristoff released last week and Oh. My. God. If the future brings us AI like AIDAN, we're all doomed. I bought the hardcover version, and not only is the story amazing, the book itself is amazing. I read it in two days, and now it's sitting on my bookcase, looking all pretty and waiting for the BF (or my sister, or my mother, or or or someone) to read it next.
It's not out for another month, but I didn't feel like waiting to read Cast in Honor by Michelle Sagara. I missed Elantra and Kaylin too much. Not quite as good as the previous entries in the series, but I think I may actually go back and re-read the series from the beginning. Review to come closer to release date.
One of the few (or only?) non-review books I read this month was Manwhore by Katy Evans. Rachel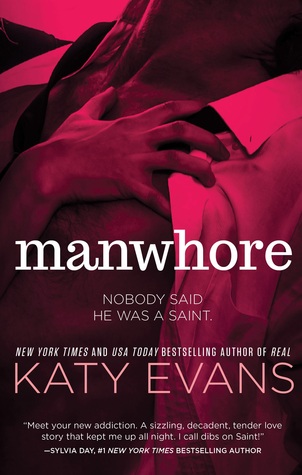 Livingston's on the verge of losing her job because the magazine she writes for is slowly going the way of other print publications before it. To boost circulation, she's assigned an expose of Chicago's most elusive bachelor, Malcolm Saint. But naive little Rachel may have just gotten in over her head with the story, and the outcome could be a disaster.
I picked this up because despite my issues with the only other Katy Evans book I've read (Real), she's a good writer. The story's a bit predictable, using some tropes I've grown a little weary of: mostly-innocent heroine who's sworn off men because of a Horrible Thing in the past; high-powered, cold and ruthless billionaire hero who changes for the heroine. Oh, and it ends on a cliffhanger. But I found myself enjoying the story anyway – I liked Rachel's determination and dedication to her job, and Saint was a well-developed character, his growth and growing affection for Rachel believable. I've requested Manwhore +1 from the library, and I hope the good things I liked in the first book continue in the second book.
Now. This has been floating around on Twitter for the past few days, sneaking on to other social media and news outlets. Two sisters, Bea and Leah, have launched a Kickstarter campaign to open the first brick-and-mortar store that sells romance exclusively. Called The Ripped Bodice, the store's set to open in Los Angeles next spring, and after a week, they're halfway to their goal of $90,000. That money will be used for inventory, fixtures and furnishings, computers and other equipment, as well as for licenses, fees, and promotion.  You can donate as little as $7 (the average cost of a mass market paperback) or as much as $10,000 (for that, you get to name the bathroom). Each donation level has goodies attached to it, and they've got three more weeks to reach their goal.
You know, it's about fuckin' time there was a store like this. I'm already planning my visit next year. For more information and to donate, click here.
It's finally starting to look and feel like fall outside, which means plenty of evenings curled up on the couch with a book. I'm going to make more of an effort in the coming months to dig into the actual books I've got on my bookshelves. So the TBR jar will be back in action. Next month's pick: Pretty by Jillian Lauren.