I love a good urban fantasy, but I confess, I've dropped out of more than one series after a particularly bad book. That has yet to happen with the Elemental Assassin series by Jennifer Estep.
We're introduced to Gin Blanco in Spider's Bite. Tough, snarky, fiercely protective of those she loves yet scared to let anyone in, Gin's punch first, ask questions later attitude, snappy dialogue, and will-she-make-it-out-alive moments keep me coming back for more.
Reading a new Elemental Assassin book is a total comfort read. While characters have come and gone over the course of the series, Estep has a way of introducing new blood every so often, changing the energy and dynamics among the central characters. It started with Gin and her foster brother, Finn, along with sisters Sophia and Jo Jo. Then came Owen (hiiiiii Owen!). Bria. Silvio. Plus Roslyn, Xavier, Phillip, Eva, Violet…there's a whole roster of people who will have Gin's back in a heartbeat.
There's blood and pain, thwarted murders and threats. There's food. Oh my goodness is there food. Gin's the owner of the Pork Pit, a barbecue joint, and when she's stressed she cooks. Peach pie, barbecue pork sandwiches, handmade milkshakes…I can't make it through one of these stories without getting hungry.
And there's growth. Somehow, with each addition to the series, Gin grows and learns.
Spider's Trap, the thirteenth installment, is no different. Gin's been crowned queen of Ashland's underworld, whether she wants it or not. It's pretty much a given that someone, or several someones, will try to oust her from that position, but a shadowy blast from the past wants to make sure that happens sooner rather than later.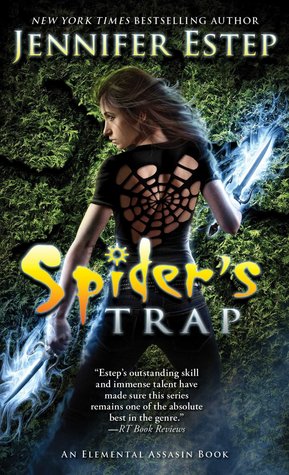 This time around, Gin has to play mediator to Ashland's baddies, and she's got to decide once and for all if she wants them to take her seriously so she can hold on to her position. Watching her try to be diplomatic when all she wants to do is stab both sides in the gut was amusing (and I wish she'd done it, because they were annoying and absolutely deserved it). The series always boasts some great, snarky dialogue, but there were some particularly fab lines this time around, especially when it came to the banter between Gin and Finn.
After sitting on the sidelines for most of the past couple of books, Owen steps up and sticks by Gin's side through the fighting. This was one of my favorite parts – we've seen Owen go all badass in the past. Getting to see him do it again was awesome, and it's a testament to Gin's growth that she doesn't try to push him away when he tells her (yes, he tells her) he's in this fight 'til the end.
About halfway through the book, Gin takes a hit so brutal that I actually teared up. At the gym. I WAS AT THE FRICKIN' GYM, and Jennifer Estep is trying to make me cry with this absolutely heart wrenching, fist pounding moment. So not cool. Not cool at all.
But it's moments like those that make the series so good, and so worth reading. There's no series fatigue with the Elemental Assassin series. Spider's Trap gives us yet another pivot point in the series, shaking up the landscape of Ashland once more, especially after the last couple of pages. Whatever Estep's got planned for Bitter Bite (out next February), it's got the potential to crumble the foundations of Gin's makeshift family. Nope, definitely no series fatigue here.
Copy of Spider's Trap provided by the publisher in exchange for review.