We had the hottest weekend of the year so far this past weekend, and how did I spend it? Scrubbing the side of my house. Our house is cream-colored, and the vinyl siding on the north side was absolutely covered in dirt. Besides the fact it can damage said siding if left too long, it looked really gross – our street runs north-south, and every time I approached it from the north (which is pretty much every time) I cringed when I saw the siding. So we broke out the ladder and the sponges. My hands still smell like bleach. Makes eating a pleasant experience.
Anyway. Books!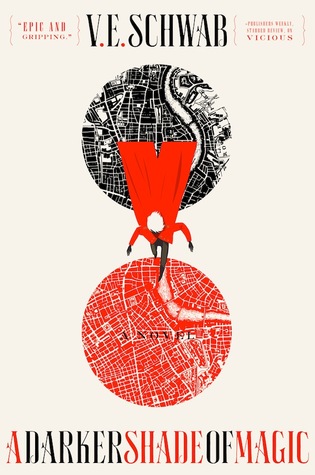 V.E. Scwab's A Darker Shade of Magic was one of those books that when it first came out, everyone was crowing about it, including VBC. So I immediately put a hold on it at the library. It came in a few weeks ago, and it is every bit as imaginative and engrossing as the reviews say. Kell's a magician of a particular sort – he's a traveler. There used to be four Londons, and he separates them by color: white, grey, red, and black. Grey London has the least amount of magic, red accepts it as commonplace, and in white London, it's something worth fighting over. As for black London, the portal was sealed long ago, when magic began to take over that world, and all artifacts destroyed. Or so they thought. Kell accidentally brings one home, and chaos ensues.
Scwab's world is detailed and vivid, the story entertaining, though I could have done without the hints of romance. If you're the type to avoid the wildly popular books because you're convinced they can't possibly be as good as everyone says, Magic is an exception to that rule.
I'd bought the paperback version of Nora Roberts' Chasing Fire years ago, when it was first available, having already borrowed the hardcover version the year before from the library. And then I never cracked open the paperback, which is strange, because I've read every single one of my Roberts' paperbacks multiple times (hence the reason I own them). Rowan's a smoke jumper in Montana, getting ready for another grueling season of wildfires. Still dealing with the death of her friend and jump partner the season before, she doesn't have time for Gull's attentions – or the anonymous threats that keep coming into the base. Someone wants the Zulies to pay, and they aren't afraid to use the fire to do it.
One of the truly awesome aspects about Roberts' writing is the amount of detail she gives on her characters' jobs. It's never overwhelming, but you feel like she really knows what she's talking about. And Catching Fire has some excellent tension of the non-sexual variety. Throw in some witty, snarky banter, a heroine who comes up swinging, and a hero who's interesting and funny and DOESN'T HAVE BAGGAGE (dear lord, I so needed me some Gull after all the angst I've been reading lately) and you've got a great example of a Roberts' suspense.
Let's see, what else was there this month…I finally got around to reading the last of Lorelei James' Rough Riders series, Cowboy Take Me Away. It's Carolyn and Carson this time, the couple that begat all those McKay kids. It was just okay – I didn't feel it added much to the overall McKay story. Though I did just check her website, and YAAAAAAY, Sierra and Boone's story has a title! Plus there's an exclusive excerpt in the back of her new Rough Riders novella (which is the story of how Calvin and Kimi hook up). No release date yet for Unbreak My Heart, but I'm bouncing up and down excited that it has a title! And an excerpt! Which means it's happening, people!
Sorry(notsorry). The only point in the entire series where I actually teared up was when Boone left Sierra in Gone Country. Expect a review once the book is released.
I also read Christopher J. Yates' Black Chalk (review up sometime this week over on My Bookish Ways). It was dark and twisted, reminding me of House of Leaves. And Chevy Stevens' Those Girls (out July 7th) which was…disappointing. It had everything I love about a strong suspense – fast pace, compelling characters, great dialogue and writing – but the plot itself was too over the top to be believable. But just like with Still Missing, Stevens draws you into the story. Worth checking out of the library. Just suspend belief for a while.
And I got to delve into two of my favorite urban fantasy series this month. Jennifer Estep's Spider's Trap
is out next month, so look for my review closer to release date. Gin and Company are in fine form, and Estep throws a moment in there that had me screaming along with Gin. And I was able to finally make time for Dark Debt by Chloe Neill. A ghost from Ethan's past comes haunting right when trouble's stirring for Morgan and Navarre House, and Merit, being Merit, ends up right in the thick of things.
Digging into a Chicagoland Vampires novel is like hanging out with old friends. Maybe you don't get to see each other all that often, but when you do, you fall right back into that old, familiar rhythm. Merit's a lot more secure about herself these days, her vampirism, her place among the vampires of Chicago and within her own House, and in her relationship with Ethan. Neill writes some of the best snarky dialogue ever (she and Ilona Andrews are neck and neck, in my opinion), and the witty barbs and jokes fly in this installment. We're getting close to the end of Merit's journey, and I'll be sad to see her go. Plus, Ethan learns his nickname in Dark Debt, and what he does when he finds out still has me grinning.
Next month brings more books and RWA in NYC! I've been saving Chuck Wendig's Zer0es (out in August) for my plane ride, and I can't wait to dive in. What did you read this month?