This was a tough, tough month for books. I spent more time reading books I had to read than books I wanted to read. Plus I found out that Netflix is losing MI-5, and I'm only on series four! *cue wailing*
One of those "want to read" books was Christa Desir's Bleed Like Me. Gannon's spent the last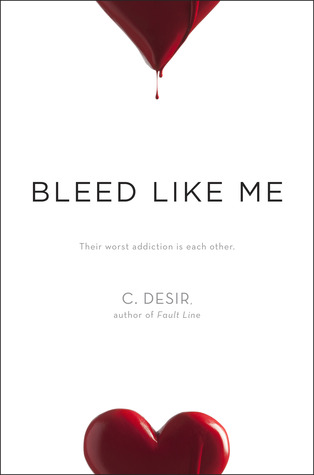 five years feeling mostly invisible, ever since her parents adopted three young boys. The only relief she gets is from her job at a local hardware store…and the cuts she makes when it becomes too much. She meets Michael Brooks, and he sees her all too well. He gets her. Starving for the understanding he offers, their relationship gets close and deep quickly.
This was a hard book to get through. Not because it was poorly written (it wasn't), but because it hurts. You can't help but shake your head over how Gannon's parents take advantage of her time and again. It's no wonder she fell so hard for Brooks. Gannon reminds me of a hedgehog – you want to pet her and cuddle her, but she's got spikes, so your hand hovers just above her while you try to figure out how. Brooks does pretty quickly, and the picture Desir paints of an obsessive relationship makes me want to point at it and shout "That! THAT! Don't do that!" I want to push this book into the hands of every woman and girl who thinks the super possessive alpha hero is hot and wants one for herself. This is what happens, what really happens, in those relationships.
I've been craving mysteries of late, and I picked up Ghost Shift by John Gapper in hopes of satisfying some of that. Song Mei's a young cadre, toeing the Party line and working hard to move
up within the Commission for Discipline Inspection. Called out in the middle of the night to investigate the apparent drowning of a factory girl, she's shocked to find the woman's face matches her own. Soon she's got more questions than answers – who was the woman, and what was she doing in the water? Why are so many workers jumping from the roof of the factory?
This book is an excellent example of why I love reading books set in China. The setting is lush and detailed, and the characters move fluidly through the world Gapper's created. While the pace dragged at times, Mei was an interesting enough character I wanted to keep reading. She was polite and knew her place, then found ways to get around the rules so she could have what she wanted. And she could take care of herself. It's no secret I love heroines who work to get themselves out of trouble rather than waiting to be rescued, and Mei was no exception. Gapper does a fantastic job of sinking you into a modern China, showing off the excess of Hong Kong and the rapid expansion of Guangdong. I do wish that Lockhart, the ex-CIA agent Mei teams up with, had been introduced earlier and had been better integrated into the story in the beginning. Overall, though, a good read, and now all I want to read are books set in China.
Christina Lauren's Dirty Rowdy Thing is not set in China. Book two in the Wild Seasons series features Harlow and Finn, two people who don't particularly like each other or get along…except in the bedroom, where they get along extremely well. Their spontaneous Vegas marriage lasted a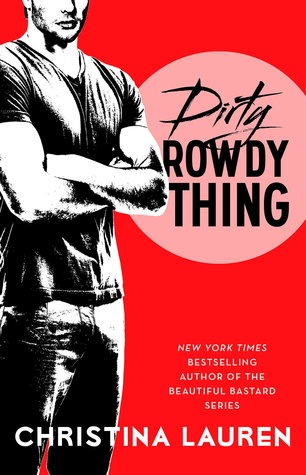 whopping twelve hours, but when Finn shows up in San Diego on business, they fall into a booty call arrangement. Finn's got business issues he wants to forget; Harlow's just been dealt a severe personal blow. Despite their mutual dislike, the pair find themselves spending more and more time together – and not all of it's in the bedroom. Maybe their relationship deserves another shot…
I cannot tell you how badly I needed this book. I read it mid-month, and it was perfect. The writing team of Christina Lauren have nailed the New Adult voice. Harlow's twenty two, a little vulnerable, and a lot snarky to cover it up. The banter between her and her two friends, Mia and Lola, is funny and real. I've read a number of NA titles lately that are just too…something: dialogue too stilted, too much angst and manufactured drama, just too plain unbelievable. Not the case with Christina Lauren, and definitely not the case with Dirty Rowdy Thing. Also? I love that this book proves that erotic romance can be snarky and realistic – while I love the deep, intense emotional connections I get with Anne Calhoun's stories or the voyeuristic feelings I get from Cara McKenna's, sometimes I just want fun and filthy, and Christina Lauren's fit that description to a T.
February's around the corner, the Seahawks are playing on Sunday, and I've got waaaaay too many books on tap for next month. Sigh.
What have you read this month?
Copy of Ghost Shift provided by the publisher in exchange for review.