The Wednesday Review is my pick for the book you absolutely, positively have to read this month. They run the gamut from romance to literary fiction, but they all have one thing in common – a story that sinks its claws in and won't let go.
Remember Hackers? That 90's movie about a bunch of high school kids who stumble on an embezzlement scheme after hacking into a supercomputer?
The Silence of Six is kind of like that. Only not.
The presidential election is weeks away, and one of the last stops on the debate card is Max Stein's high school. Sponsored by Panjea, a Facebook-esque social networking company, video questions are vetted and posed to the two candidates for their consideration. Then a hacker named ST0P hacks into the tv broadcast feed and poses a live question: What is the silence of six, and what are you going to do about it?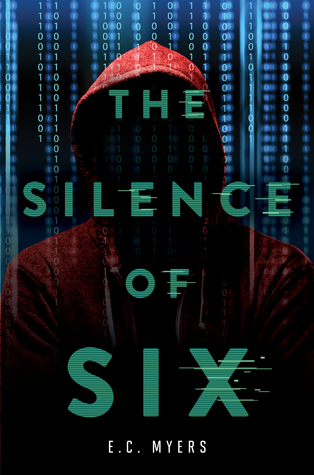 Max recognizes the kid in the video from his handle and the red hoodie he wears. It's his best friend Evan, and as Max and his classmates look on, Even shoots himself. On screen.
Shocked and grieving, Max recalls the last text message he received from his friend. The 40 some odd character phrase makes no sense – but Max isn't without skills of his own. He busts out his old handle, 503-Error, and gets to work following the trail Even leads him on. With the help of some fellow hackers, Max uncovers a chilling conspiracy that could cost him his freedom.
Let me get this out of the way. I had some issues with the setting of Silence of Six. At times, it felt like the plot was too sophisticated for a YA story. Teenagers outsmarting corporations and the government like seasoned spies? Teenagers working for the government?
Plausibility aside, I did not want to put this book down. I was literally whining to myself on my morning bus ride to work, that I had to go to work in the first place because dammit, I wanted to finish this book.
A lot of that has to do with the pace. It's fantastic. Shit happens quickly, and when Max and his friends aren't being chased by goons, they're frantically trying to piece together the puzzle Evan left behind. There's a lot of hack-speak woven in, and it's done with a clever hand. It never overwhelms, and you come away with this vague feeling you've learned something – and weren't aware it was happening. That's the best kind of learning, in my opinion. We need more learning like this.
Max is a great character. Beyond his smarts (of which he has many), he's geeky and uncertain and guilty of that thing most teens do – try to fit themselves into a mold so they'll fit in. And you can't blame him for it. He had his reasons for leaving his life of hacking behind, but even with the new distance between him and his best friend, he still considered Evan his best friend.
It's a truly sophisticated, and scarily possibly, story. Conspiracy theorists would have a field day with it, but what makes it so frightening is how fucking true it could be some day. It presents an awesome argument for net neutrality and gives us a glimpse of how our habits could be used against us.
But it's mostly a story of a boy struggling to find out why his best friend left him, and in such a violent manner, and making sure all the bread crumbs he left behind aren't gobbled up by the crows.
Now that you know about the silence of six, what are you going to do about it?
Copy provided by the publisher in exchange for review. The prequel, SOS, is available on Wattpad for free.