Happy Halloween! I'd had these vague thoughts of doing a spooky-ish reading post today…except I'm not likely to read spooky-ish stories. So what did I read this month?
After I finished my re-read of Kylie Scott's Stage Dive series (David is still awesome, Mal is still occasionally annoying, and Jimmy is still…Jimmy) I picked up Rocked, by Cari Quinn and Taryn Elliott. After years working as a roadie alongside her parents, Harper's started down her own career path. Fresh out of culinary school, she's taken a job with Food Riot, preparing meals for the up and coming band Oblivion on their first national tour. The tour's a dream come true for Deacon and the rest of the band. They've worked their asses off – and lost a band member along the way – to get where they are. Then Deacon sees Harper, and he starts dreaming a new dream, one of the two of them living happily ever after. But years of hanging around musicians have taught Harper to be careful, and she's not about to give her heart up so easily.
If you're looking to fill your rock star void while waiting for the last book in the Stage Dive series to come out (release date has been pushed back to March 2015), I'd pick up Rocked. While it has a lot more angst and an overall more serious tone than Scott's books, the chemistry, both between Deacon and Harper and Deacon and the rest of the band, can't be beat. Deacon's a total sweetie and I loved his patience with Harper. Harper's need to make something of herself, for herself, was awesome. I did think the true reason behind her reluctance to get involved with Deacon could have gone a bit deeper than it had (it's explained, but I wished it had been expanded upon) and I had a total facepalm moment about halfway through the book when they describe The Gorge at George. I'm super excited for Twisted, featuring Grey and Jazz, releasing at the beginning of December. So much so I might have to break my no new books vow before the end of the year just to buy it.
Carrie Mesrobian's Sex and Violence popped up on my Twitter feed recently. Since it was
published by the same publisher who released Steve Brezenoff's Brooklyn, Burning, I thought I'd give it a shot. I am very, very glad I did.
Evan's never had any problem getting girls. Then he picks the wrong girl and ends up in the hospital. Once he's released, his dad takes him to Pearl Lake, Minnesota, to recover. And he's got a lot to recover from.
Evan's fucked up in the head, and he was that way before he got jumped. Ever since his mother died, his father's dragged him from one boarding school to another, making him a perpetual Fucking New Guy. He doesn't try to make friends. He doesn't try to date girls. He catalogs them, discards most, and goes after the Girl Who Would Say Yes. He freely admits he's a douche. Once he arrives in Pearl Lake, he adds "unable to shower", "paranoia", and "insomnia" to his list of things screwing with him. You start to wonder if he'll ever manage to untangle himself from the wreckage of what he's done to himself and what was done to him. He has to learn how to be friends with someone, and it's sad and a little embarrassing, watching him try to figure it out. You get pretty deep into Evan's head, and it makes you want to hold him close and tell him everything will be all right.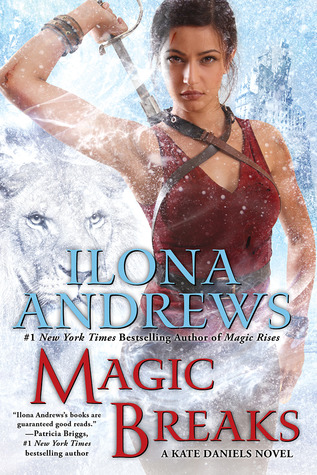 It took a while, but Magic Breaks by Ilona Andrews finally came in at the library. Kate's tired. All she wants is some time alone with Curran, and Curran and Julie, and instead, he's got to go on a hunt and she's got to figure out why a shifter killed a Master of the Dead. Oh, and prepare for the arrival of Roland. Her father. Who wants to kill her.
I one more chaptered the hell out of this book. Seriously. Saturday night, I kept checking the time, and then I'd read another chapter, then another, until finally I looked up and it was 12:30am and I figured I should go to bed…and then I read another chapter. No one does snarky-yet-vulnerable quite like Ilona Andrews, and they're in fine form here. If you've kept up with the authors at all, you might have heard that this book (book 7) was originally supposed to be the end of the series. It reads like it (though they've been contracted for 3 more books), which makes the ending of the actual book a bit weak. Not that I'm complaining, because yay more Kate and His Furriness! And there's lots to love in Magic Breaks. The banter between Ascanio and Derek had me snort-laughing, and I can't wait for more of Roman…there had better be more Roman.
Have fun trick or treating tonight! May the Great Pumpkin bring you many toys 🙂