Frankly, I'm kind of surprised at how much I managed to read this month. The day job has picked up in insanity, I'm in the middle of a rewrite, and I'm almost done with revisions on Game of Shadows. There's been a crap ton of other stuff, too – conference planning, self-publishing research, house work and yard work and TV time – yet I probably read more this month than I have in the past two months.
Some of them were pretty quick reads, like Anne Calhoun's Afternoon Delight and the second book in Em Petrova's Boot Knockers series, Body Language. Of the two, I recommend Delight, because no one packs an emotional punch quite like Calhoun. Easily one of my favorites so far this year, and definitely going on my re-read pile.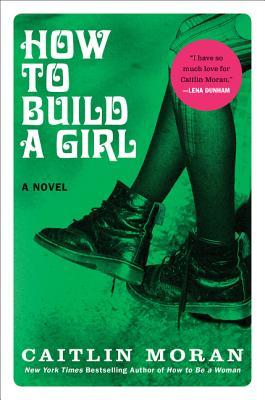 Others took longer, but were definitely worth it. How to Build a Girl by Caitlin Moran falls into that category. When the story opens, Johanna is just fourteen, living on a council estate with her family, and trying to find a way to earn some money to help out her family. Enter her alter-ego, Dolly Wilde. Dolly is everything Johanna is not – funny, confident, capable of drinking any man under the table and having sex with any man she wants. By sixteen, Johanna's become so firmly enmeshed in being Dolly that when she realizes she's been going about life all wrong, she's lost over what to do to fix her mistakes.
Girl takes a while to get going, and the pace is often slow, but you sort of don't mind, because Johanna is quite funny. Occasionally crude, often surprisingly immature, she is everything you'd expect a 16 year old girl pretending to be worldly would be. Everything she does screams truth as far as being a teenager is concerned – you spend way too much time conscious of what others think you already know, and how you appear to them. Johanna's the kind of girl you want to shake your head at and then take her by the hand and show her that life doesn't have to be this way. The story's set in the early '90s and full of Brit pop and early grunge and glam rock, and reading about the bands and the fashions brought back memories, most of them good ones.
There was also Chevy Steven's Still Missing. A realtor is kidnapped from an open house and held captive for almost a year at an isolated cabin on Vancouver Island. When she makes her way back to civilization, what she learns about who's behind her abduction threatens to undo what little progress she's made toward recovery.
I loved this book. I loved how dark and twisted it was. Annie, the heroine, isn't strong. She's not weak, either. She just is. The narrative is told through her sessions with her therapist, flashing back and forth between the present and the months she'd spent captive. Annie's surprisingly snarky, which makes it easier to swallow the horrors she's experienced. Sarcasm: the universal defense mechanism!
Last month, I read Sex, Love, Repeat by Alessandra Torre. This month, I read Black Lies, because I wanted to know how the two stories were different (if you read the blurbs, the stories sound pretty damn similar). Lana's been with Brant for years. She's desperately in love with him, yet she's turned down every single one of his marriage proposals. Lee's the guy she pursued despite her feelings for Brant. And her reasons for doing so might shock you.
Okay. I ranted about this story to a few people already, so I need to preface this by saying it is absolutely a me problem. As in, it tripped a couple of personal wires for me that took away from my enjoyment of the story. See, it's well written, though the beginning is a bit slow. I wanted to know why, since Lana's feelings for Brant were this tangible thing, she'd go after Lee. The explanation bugged the crap out of me and I almost didn't finish the book. If you want to know what I'm talking about, highlight the paragraph below.
Brant has Dissociative Identity Disorder, aka Multiple Personality Disorder. A psychological condition that's largely unresearched, there's a lot of controversy around the diagnosis, especially since some don't believe it exists, or that it's not a true psychological disorder, in the same manner than schizophrenia is a true disorder. I happen to fall into the "it doesn't exist" camp, mostly because it's quite difficult to prove that someone isn't faking it. While it was a creative move on Torre's part, I've spent too much time learning about mental health issues (thank you, sociology degree) for me to not snort in disbelief.
I read a couple more of the Rough Riders series (almost done! One more book to go!) and finished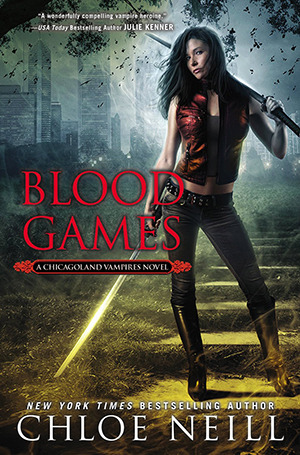 off the month with Chloe Neill's latest Chicagoland Vampires offering, Blood Games. Ethan's challenged Darius for control of the GP, and while Merit's behind him one hundred percent, it's causing some unexpected strife for the couple. Throw in a series of murders designed to cast suspicion on supernaturals, and life in Cadogan House isn't exactly pleasant.
There's something about coming back to a favorite series that just relaxes me. I've liked every outing with Merit and Company (some more than others) but the last few books have been read more for the comfort factor of being immersed in a world with characters I love than the story itself. Blood Games takes me back to the first couple of books, though, where Ethan was kind of an asshole and the mystery was good and twisty. I loved the reappearance of douchy Ethan (the lovestruck Ethan was a little too saccharine at times) and the murder investigation held my attention as the pages sped by. The pace never lags, and unlike the last couple of books, the need to figure out who's targeting supes is never far from the page. Short version? Neill's back in fine form here, and if you've been debating whether continuing with the series is worth it, this book proves it absolutely is. More change is coming for the North American vampires, not just Cadogan House, and I can't wait to see how those changes play out. Neill's got a new series starting next year, too, set in New Orleans, so even though the Chicagoland series will be coming to an end in a few books, there's still plenty of snarky Neill goodness to go around.
Next month promises to be crazy piled on top of crazy, and if I manage to make it through something other than a book I've already read (I'm currently re-reading Kylie Scott's Lick and plan to re-read the other two books in the series) I'll consider that a huge accomplishment.
Copies of Afternoon Delight, Body Language, and How To Build A Girl provided by the publisher(s) in exchange for review.