The Wednesday Review is my pick for the book you absolutely, positively have to read this month. They run the gamut from romance to literary fiction, but they all have one thing in common – a story that sinks its claws in and won't let go.
Last week, Jane from Dear Author posted a daily deal – Sarina Bowen's The Year We Fell Down for $.99. What got my attention, though, was her tweet – she would personally refund you your money if you didn't like the book. So I bought it.
I think I ought to pay Jane a dollar for recommending the book.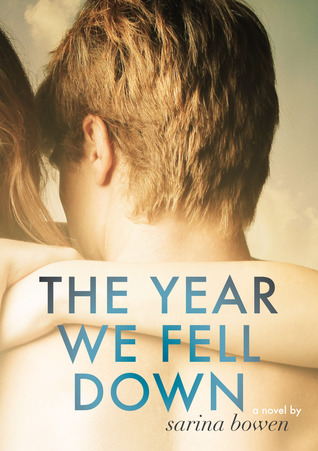 The Year We Fell Down is the story of Corey and Hartley, two hockey players dealing with injuries that have them on the sidelines. The difference between them, though, is while Hartley's is temporary – a broken leg – Corey's is not. She suffered a spinal cord injury the January of her senior year of high school and while she has some feeling in her legs, she'll never be able to walk unassisted again, much less play hockey.
Assigned to handicap dorm rooms across the hall from one another, the two become friends, and Corey develops a massive crush on Hartley. The longer they hang out, the more she likes him, but she's certain nothing will ever come of it; he's got a girlfriend. Besides, what guy would want to date a gimp?
If there was a way to swallow a book whole, I would have done it. I loved this book. Corey's funny and determined to do as much for herself as possible, and when push comes to shove, she knows when to cut her losses and roll away. Bowen deals with Corey's injury in a matter-of-fact manner, acknowledging the pitying looks while focusing on all the things Corey can do. As much as possible, she's living a normal college life, complete with angst and heartbreak over a guy who would be perfect for her – if only he'd get rid of his insipid girlfriend.
Hartley's an ass at times, but what college junior isn't? But he still thinks Corey's beautiful, even with the chair, even when he's still with his girlfriend. He treats her like one of the guys (he calls her Callahan, her last name) and bugs her to talk about the most uncomfortable topics, like sex and whether she can actually feel anything, or being stuck in the hospital, or the horrible physical therapy exercises she has to do.
By the time I finished The Year We Fell Down, I needed more. MOAR. So I picked up the next book
in the series, The Year We Hid Away, which pairs Bridger, Hartley's best friend, with Scarlet, a freshman. Both have secrets (big ones) and manage to fall in love anyway. After that, there was Blond Date, a novella, following Ponytail Katie (Scarlet's roommate) on her date with Andy (Scarlet's high school classmate).
Of the three heroes, Andy was my favorite. Goofy, nerdy, and a gentleman. He kind of reminded me of the BF (who is also goofy, nerdy, and a gentleman. Plus he played basketball. Like Andy does.) Katie surprised me – in The Year We Hid Away she comes off as a bit shallow and self-centered, but by the end of Blond Date, I had a totally different impression of her.
The series as a whole is fun, thoughtful, and well-written, the writing tight, the stories plausible, and while there's angst, it's your typical college variety, staying far away from the tragic-past-and-terrible-secrets variety. When I was in the middle of The Year We Hid Away, I found myself standing in the middle of my kitchen in my sweaty gym clothes, promising myself I'd just finish the chapter I'd stopped in the middle of and then go shower.
Three chapters later I managed to put my Kindle down long enough to shower.
I want more New Adult like this, where the characters worry about their grades, party too much, make all the stupid mistakes a 20 year old makes, maybe fall in love for the first time, and learn what life is like outside your parents' house. Lucky for me, Bowen's next book, The Understatement of the Year, is due out next month, so I don't have to wait too long.
Is it October yet?