When Cara McKenna said she was doing an MC book, I was intrigued. Would she take the alphahole route so popular in the genre?
The answer? Nope.
Vince Grossier's spent his entire life in the small town of Fortuity, Nevada. He's pissed about a resort and casino that's being built in town, convinced it'll force out the local businesses and just be all around bad for the citizens of Fortuity. His old friend Alex calls him up one night, well on his way to being drunk, and starts rambling on about bones. Vince convinces Alex to meet him at the local bar. When he's killed in a drunk driving accident instead, Vince isn't so sure Alex wasn't murdered to cover up what he saw…whatever it was.
Kim Paget's in town to shoot some pictures for the marketing brochure the new casino's putting out. After leaving behind one controlling man, the last thing she wants is to get involved with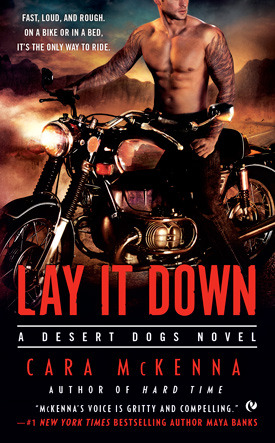 another controlling man – and while Vince isn't exactly controlling, he's definitely not the kind to roll over and play dead. The longer she's in town, though, the more drawn to him she is, until she's sucked into the unanswered questions surrounding Alex's death.
While McKenna herself calls Lay It Down an MC book, it doesn't read like any other book in the newly popular sub-genre. The Desert Dogs are a group of friends who happen to ride motorcycles. Vince occasionally finds himself on the wrong side of the law, but the man has a soft spot. He takes care of the people around him, from his crazy mother to his childhood friends to people he only has a vague connection to. And Kim. Vince wants to take care of Kim, though he's at a loss for an explanation why.
Kim doesn't want to be taken care of. Kim wants to have adventures, and one of those adventures is a rollercoaster of a fling with a man on a motorcycle. She's whip-smart and isn't afraid to voice her opinions, but she's got her vulnerabilities, just like everyone else. Sometimes sweet, sometimes cool, Kim's one of my favorite McKenna heroines.
In fact, I'd say the relationship between Kim and Vince is one of my favorites. McKenna excels at gritty, every day relationships, making you feel a bit like a voyeur while you watch two people grow toward each other. Watching Vince soften his approach, seeing Kim bite back her uncertain response and reach for the flippant one, how they both advance and retreat and meet somewhere in the middle, it's so very, very real, and you want to meet these people and have a beer with them.
Have I talked about the sex? No? Do I have to? This is Cara McKenna. There's sex. It takes a surprisingly long time (page-wise) for it to happen, but it's an organic thing, one that evolves as the connection between Vince and Kim strengthens. It's hot, sticky, a little dirty, and a little tender, a perfect reflection of the couple at the center of it.
I have to say that while the mystery angle was competently executed, it didn't hold a lot of suspense. There was no burning need to keep turning the pages to find out if Vince would learn who'd orchestrated Alex's death, and honestly, by the time I'd almost finished it, I started to assume that I wouldn't find out and I'd have to wait for the next book. No, you keep reading for Vince and Kim and what's going to happen next.
While the set up of events in the next book isn't clear, the stars of book two are (even if the back cover blurb for Give It All wasn't already available). The tension between Raina and Duncan is solid enough you could touch it, and throw in Miah, with his Raina torch? Someone's going to get their heart broken.
With an intriguing cast of characters, a raw, honest backdrop, and a healthy dose of smexy, Lay It Down is a great addition to McKenna's list…and a perfect introduction if you've never read her.
Copy of Lay It Down provided by the author in exchange for review.