I feel like I've read everything and nothing in the past month. There were books that took me mere hours to read, and books that took me weeks.
One of the books that fell into the hours category was The Sexiest Man Alive by Juliet Rosetti. Mazie Maguire's ready to move on from Ben LeBeck. The man takes her for granted. He doesn't put any effort into romancing her. The last straw is when a local television program names him The Sexiest Man Alive and he does nothing to fend off the ensuing female attention. She tells him it's over, and promptly gets kidnapped in a case of mistaken identity. As the hours countdown to her final judgement, Mazie starts to wonder if she made a mistake, leaving Ben.
The Sexiest Man Alive had its ups and downs, though, thankfully, more ups than downs. Mazie's a fantastic heroine. She relies on herself to get out of the scrapes she gets into, and doesn't sit around twiddling her thumbs, waiting to be rescued. She sticks to her decision to break up with Ben, even after it's clear he thinks she was joking. She's funny, sweetly vulnerable, and a hellcat when she's mad. And despite it being the fourth book in the series, I didn't have any trouble understanding the storyline. It referenced past events, but there was enough back story I could follow along without any problem.
I didn't like Ben. Or rather, I didn't like how Ben was portrayed. He comes off as a completely clueless Neanderthal, self-centered at times and a bumbling hick at others. He had his reasons for enjoying the extra female attention he was getting, and it tugged at me a little, made me feel a bit sorry for him, and I didn't want to begrudge him that ego boost. But he never 'fessed up to Mazie as to why he didn't discourage it, and that bothered me. Also? No man is that clueless. Not unless they've never been on a date before.
I'd been patiently waiting for my local library to order their copies of Christa Desir's Fault Line, and it finally came in. Ben's completely gone over Ani the moment he sees her. It doesn't take long for the two of them to become inseparable, until the night Ani goes to a party with a girlfriend, a party Ben decides to skip, thinking Ani could use some girl time. What happens that night will haunt Ben for the rest of his life.
This was a difficult book to read. It's also impossible to discuss without giving away what happened, but I have to talk about it. Desir knows her subject well – she's a former rape victim advocate, and she doesn't flinch when it comes to how Ani reacts to what happened to her. You get the sense that Ani's reaction is a typical one, a shameful one, a sorrowful one, and Ben's powerlessness over the situation is heartwrenching. This is not a happy book. Rape doesn't only have one victim. Fault Line shows you that other side, the victims you never think about – the friends and loved ones, because make no mistake, this isn't a crime that only impacts one person. There are some stories that make an attempt at redemption, of showing the reader that everything will be okay eventually. Fault Line isn't one of them. It's stark and raw, and it left me with a hole in my soul.
As did Five Days at Memorial: Life and Death in a Storm-Ravaged Hospital. I have to confess, I'm not done yet with Sheri Fink's examination of what happened in the first days after Hurricane Katrina at one of NOLA's largest hospitals. For some reason, the devastation of Katrina impacted me more than any other event in the last decade and a half, even more than 9/11. The first one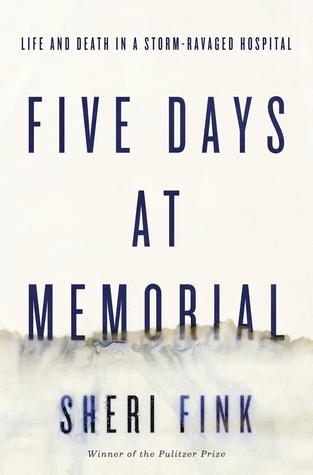 hundred pages or so takes you through the hurricane and its immediate aftermath, when the flood waters rose. As the power fails and the temperatures and flood waters rise, the staff at Memorial are faced with some truly horrible, and horrifying, decisions.
Fink's writing is vivid, and you're sucked into the heat and the stench of Memorial, into its darkened hallways and blacked out staircases. Within the first fifty pages, I felt something familiar – anger. Hurricane Katrina was, hands down, one of this country's biggest failures, and Five Days at Memorial illustrates that to a T. Miscommunication abounds. Fingers point, and no one gets anything done because they're all waiting for someone else to do it. The seventh floor of the hospital is rented out to another medical facility called LifeCare, specializing in longer-term care for critically ill patients. The lack of communication between Memorial Hospital and its corporate owner, Tenet, was shocking, but the lack of communication between the staff at Memorial and the staff of LifeCare was astounding. Memorial staff made decisions without consulting anyone on the seventh floor staff. But the one that really angered me was the nurse who waved off a rescue helicopter, telling it to come back in the morning.
She waved off a fucking rescue helicopter.
Three times.
Three separate Coast Guard helicopters tried to land on the helipad to transport more patients away from Memorial and were told to come back in the morning, when there were critical LifeCare patients that desperately needed to be moved. I had to stop reading at that point and pick up something else, because I knew that marked the beginning of the end of several patients' lives. This is a textbook for what not to do, and how large corporations are out of touch with their branches. I do plan to finish the book, but it'll take some time.
One book I likely won't finish? You're Not Much Use to Anyone, by David Shapiro. After graduating from college, David make a half-hearted attempt at being a responsible adult and –
Okay, honestly? I stopped at the 30% mark, and haven't moved past it. David bugged the shit out of me from the first page. He stupidly believes that since he graduated from college a semester early, that means he's got a few extra months of living off his parents and doesn't need to find a job. If I'd paid closer attention to the blurb, I wouldn't have requested the book. It's semi-autobiographical, and I'm guessing the autobiographical part comes in within the portion I managed to read. If David had stepped in front of a bus on page five, I would have been ecstatic. Of course, that would have made for a very short book. The constant references to Pitchfork Review and the resulting counter-blog, Pitchfork Review Reviews, were so meta I wanted to gag. Basically, this is what you'd read if you want a clear picture of hipster culture. Or the entitlement generation. Or both. Both, really. I've been trying to talk myself into reading a bit farther, but I learned my lesson last year with ASA Harrison's The Silent Wife – if it aggravates me, I must stop reading. You're Not Much Use to Anyone definitely qualifies.
Aggravation aside, it was a pretty good month for books. What are you reading?
Copies of The Sexiest Man Alive and You're Not Much Use to Anyone provided by the publisher(s) in exchange for review.