I was looking at my list of books slated for review, and good god, ALL of them come out next month. ALL THE BOOKS.
Like Victoria Dahl's Fanning the Flames. Lauren works as a librarian in Jackson, and the library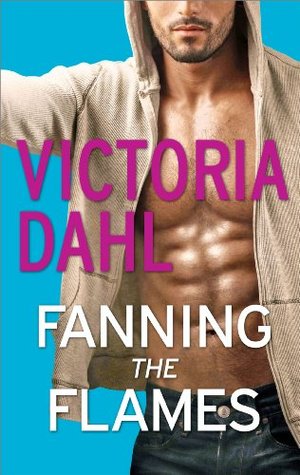 shares a building with the local fire station. Which means sometimes she gets to see the fire chief running around with his shirt off. For his part, Jake tries to ignore the elemental connection he shares with Lauren, until a night out ends with them groping each other on his couch. Lauren's convinced she's all wrong for Jake, but Jake's tired of everyone thinking they know what kind of woman he needs – because the only one he wants is Lauren.
Dahl's latest is a short, sassy read, kicking off her new series. Lauren is awesome. She's one of my favorite Dahl heroines, with her outspoken (and occasionally tactless) ways. Both characters are in their 40's, and I love that they're not airbrushed to perfection. Lauren worries about sagging body parts; Jake has chest hair, grey hairs, and panics that he might not have the stamina he used to have. I wish Jake had been a little better developed, though. We spend a lot of time in Lauren's head, but not enough in Jake's. Also? The cover doesn't match the character description (boo!)
Pushin' Buttons was Em Petrova's latest offering, the start of the Boot Knockers Ranch series. Sybill's come for a week of sexual experimentation and adventure, and hopes to leave with a cure – after years of trying, she can't orgasm. Doesn't matter if it's by her own hand or someone else's, nothing seems to work. Hugh, part owner of the Boot Knockers Ranch, pulls rank and takes her under his wing, much to the annoyance of Riggs. But all of Hugh's talents and tricks aren't enough to break through the barrier, and Riggs ends up joining them for a threesome.
I've enjoyed Petrova's Country Fever series, and this one was no different. She does menage really well, and here, she's working with a compressed time frame – everything happens in a week. That compression did irk me, though, because the result was insta-love (my favorite! Said no one ever). There was no doubting the connection the three of them shared, but at the end of the week, I don't know that I would have bought it as love.
Speaking of connections, the one between Mira and Jake in Hold on Tight by Serena Bell was pretty amazing. After returning from a tour of Afghanistan minus part of his leg, Jake's become sullen and withdrawn, and running into Mira eight years after a one night stand doesn't help matters. Neither does learning that night produced a son. As he spends more time with Mira and their kid, though, they're both forced to admit that the pull that drew them together all those years ago is still as strong as ever. Jake's already learned to walk again. Now he's got to decide if he's ready to learn how to love again.
Bell handles Jake's injury and the resulting emotional issues with style. It would be easy to gloss over the incident and paint their reunion in happy colors. What she does instead is gives readers a realistic glimpse of what it might be like for a returning soldier. He can't do the things he used to do in the same manner, even sex. And for her part, Mira never pushes him to talk to her. She lets him be, and that's probably the best gift of all.
I'd had G. Willow Wilson's Alif the Unseen on my hold list at the library for forever, and I finally
stopped deferring it and let it come in. Hacker Alif scrambles to outrun the Hand of God in an unnamed Middle Eastern state after a computer program he developed to track users by their keystrokes is discovered on his ex-girlfriend's desktop. Weaving in elements of the Arab Spring, the stories of the jinn, technobabble and religion, Alif the Unseen is a mash up of ideas that smooths out into a fantastical story of how we view our world.
This book couldn't have come in at a better time. I loved it. The idea that you could build code from ancient stories is kind of crazy – and the way it's described in the book, totally works. It's this mishmash of fairy tales and the Koran, with elements of political strife for seasoning, and I kept turning the pages, hoping Alif would escape the Hand. As a non-believer, he ends up questioning everything he knows, about his own skills, about religion, about the hidden world of the jinn. The story brings up a lot of questions that don't have easy answers. Definitely my favorite book I read this month.
What about you? Any good books this month?
Copies of Fanning the Flames and Hold on Tight provided by the publishers in exchange for honest reviews.